Giving of Your Time as Well as Treasure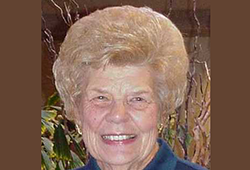 Lois has volunteered at St. Joseph Health, St. Mary for 14 years. She has served in a variety of capacities from her current service as Foundation Liaison to other services such as Auxiliary President, Gift Shop Cashier, Patient Hospitality, and County Council President.
Lois has shared with the Foundation that St. Mary is named as beneficiary in her estate plan.
"After my lifetime, St. Mary will receive a gift from my estate. I have told them so. Over the years, my family and I have received great care from St. Mary. That's why I volunteer and that is why I am leaving a legacy to St. Mary. I have personally seen the great care St. Mary provides."
"Although I will not be leaving millions, I am leaving a real legacy in this community that has meant so much to me and my family. As a volunteer, I know firsthand that my gift will go to help make people well for years to come. When St. Mary knows about gifts like mine ahead of time, they can make better decisions for the future!"
If you have already included St. Mary in your estate plan and Lois' heart and words resonate with you, I invite you to notify us that we are in your estate plan. We keep all information you share with us confidential.